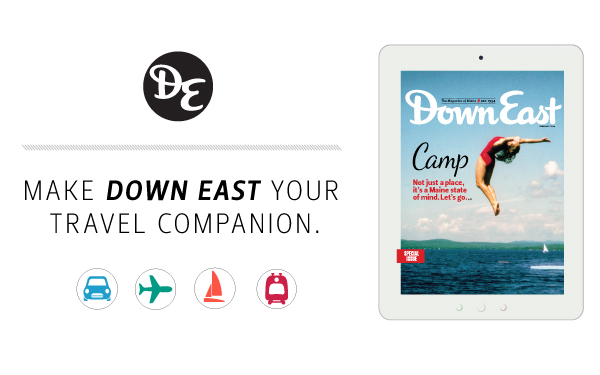 Each month, Down East magazine evokes and illuminates the spirit and culture of Maine through stunning photography, beautiful storytelling, and quality journalism. Starting with our first issue in August 1954, we have honestly reflected the beauty and the authenticity that make this state like no other. Plus, in every issue you'll find articles on Maine life, people, places, businesses, restaurants, and much more. Download full issues of Down East and explore the magazine of Maine on your tablet and stay connected with the Pine Tree state no matter where you are.
[separator type="double"]
[tabgroup layout="horizontal"]
[tab title="Apple IPad App"]
Get Down East for your iPad at the app store.
12-month subscription (12 issues) – $19.99 (automatically renewed until canceled)
6-month subscription (6 issues) – $12.99 (automatically renewed until canceled)
1-month subscription (1 issue) – $2.99 (automatically renewed until canceled)
Single issue – $3.99 (no automatic renewal)
[/tab]
[tab title="Google Play"]
Get Down East on your droid devices with Google Play
12-month subscription (12 issues) – $19.99 (automatically renewed until canceled)
6-month subscription (6 issues) – $12.99 (automatically renewed until canceled)
1-month subscription (1 issue) – $2.99 (automatically renewed until canceled)
Single issue – $3.99 (no automatic renewal) [/tab]
[tab title="Amazon App Store"]
Get Down East for your Kindle Fire

12-month subscription (12 issues) – $19.99 (automatically renewed until canceled)
6-month subscription (6 issues) – $12.99 (automatically renewed until canceled)
1-month subscription (1 issue) – $2.99 (automatically renewed until canceled)
Single issue – $3.99 (no automatic renewal)[/tab]
[/tabgroup]