… I discovered that Maine is the best place in the world.
If you would have told my 12-year-old self that my favorite place in the world would be in the woods with no electricity, phones, television, cable, video games, etc., I would have said you are nuts.
Jim Goodfellow
Chicago, Illinois
Camp Winona for Boys 1990–1994
For so many of us, these memories, and this profound love of all things Maine, have never left. When I was old enough to choose where to live, I went straight back to Maine like a little homing pigeon and began my career in Portland, where I wrote for a statewide newspaper called Maine Times and worked at a local television station. Most of my friends either went to Boston or New York City to launch their careers. I was magnetized to the state because camp convinced me that Maine was the best place in the world.
Nancy Steiner,
Westchester, New York
Camp Fernwood, 1968–1973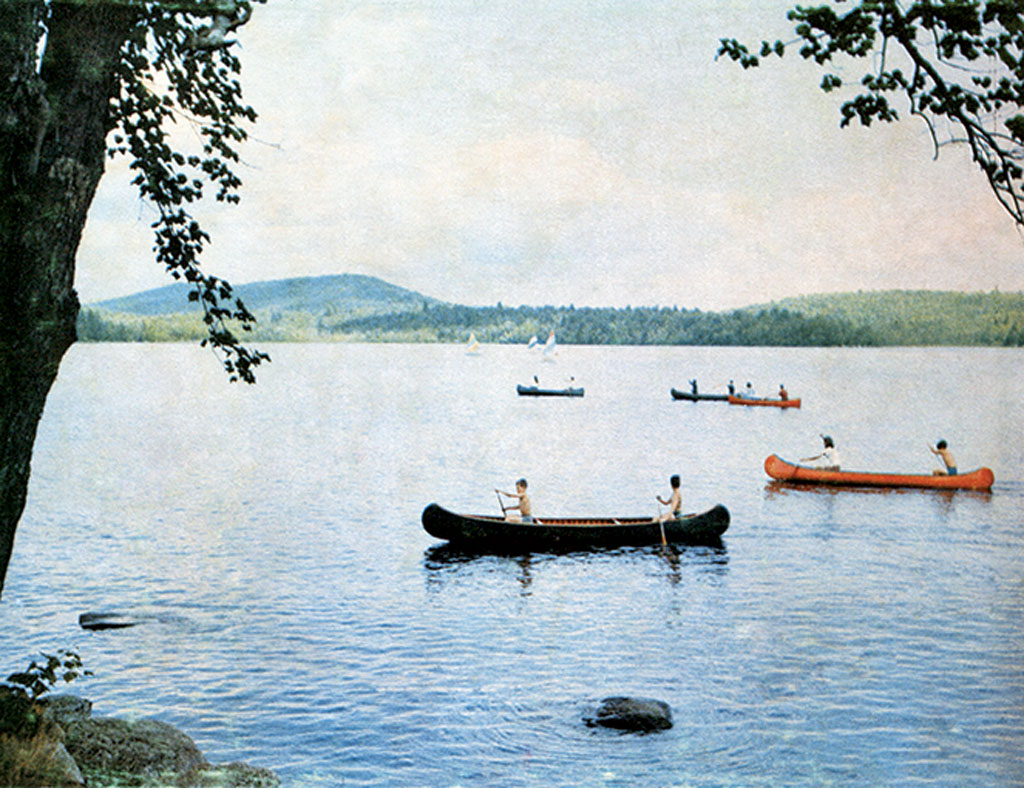 The lakes and the loons. The hot days and cool nights. The landscape is gorgeous and inspiring.
Stacey Snider
Philadelphia, Pennsylvania
Camp Runoia, 1974–1976
Despite receiving letters throughout the summer from both my parents about how my dad's chemo treatments weren't successful, I didn't really get it until one night in August. My parents drove up from Portland to see me perform in Shrek. When I bounded over to hug my dad after the show I could feel the change in his physical appearance.

As I sat on my bed later, feeling, for the first time, the enormity of my dad's illness, what still sticks with me is the love I felt from friends in that old, wooden cabin. That night, as I listened to "Taps" play across the water, I felt an intense connection with the six other girls near me. Suddenly, I was a kid again — not someone dealing the seriousness of cancer, but a 12-year-old stifling giggles in her pillow as a cabinmate farted.

On September 2 my dad died. The first people I called were Camp Wawenock's directors who, through the magic of camp, spread the word. One of my counselors came over that very afternoon and played with me while the aftermath of death was happening in my house. Without my Wawenock family, I simply wouldn't have gotten through it. Camps are places for kids to be carefree and enjoy life in a way they can't in school and the "real world," but when real-world issues invade that paradise, the power of camp is really shown.
Kristy Andrews
Cumberland, Maine
Camp Wawenock, 1998–2005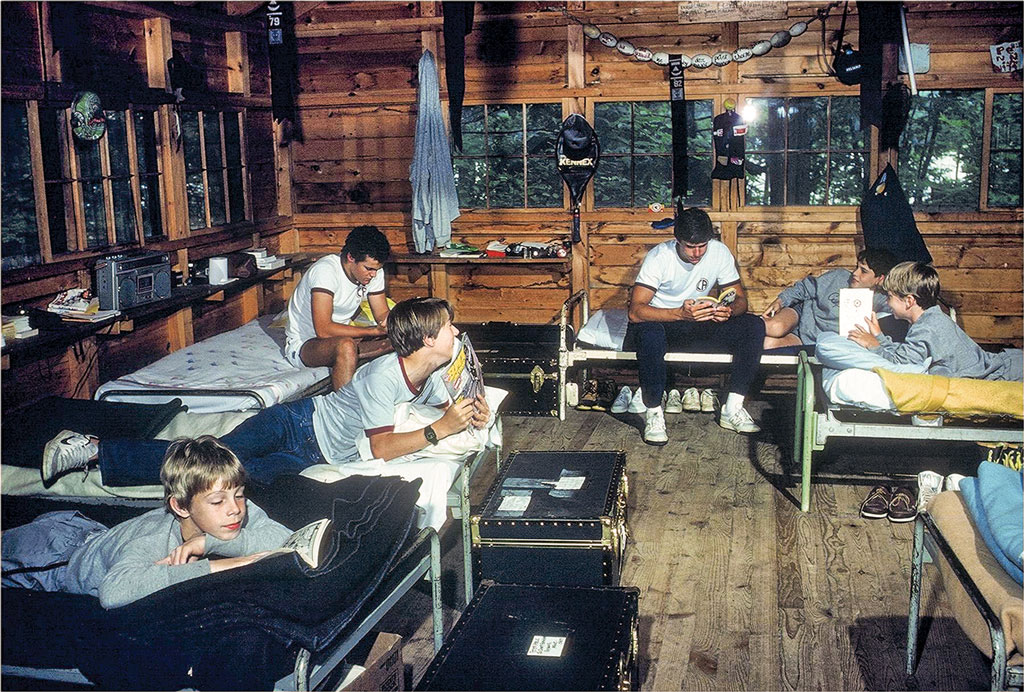 I met my future best man.
Peter Wilson
New Canaan, Connecticut
Camp Agawam, 1979–1981

… I found my voice
Camp built my self-confidence. It didn't matter that many of the skills I learned were not applicable to my daily life. If I faced a problem with a teacher or a scary test, I'd just think to myself, "I've got this. I can chop wood."
Kat Read
New Bedford, Massachusetts
Camp Arcadia, 1998–2004
The counselors at Camp Susan Curtis taught me that I was just as good as anyone else. I want to tell them thanks for giving this quiet, insecure girl a voice. In a world that at times seemed so cruel, Camp Susan Curtis was a haven for so many of us. It made all of our problems at home fade away for a few weeks each year. The camp is unlike most camps in that it serves Maine's disadvantaged children and is a free experience for kids who wouldn't be able to attend camp otherwise. I am blessed to have been one of those children.
Kim Slaven
Auburn, Maine
Camp Susan Curtis, 1986–1998
I stepped out of the winter me and tested new ground. I loved the lake. I loved the pride that came after a trip day of mountain climbing. I Ioved the feeling of accomplishment that went with being able to master something every day. I loved being in a supportive, all-girl environment. I loved the explicit focus on values. It was important to be a good friend, to encourage others, to try your hardest, to work as a team, to reach out to people who were hurting, to laugh. That's a beautiful way to live.
Barbara Weinstein
Mamaroneck, New York
Camp Fernwood, 1977–1983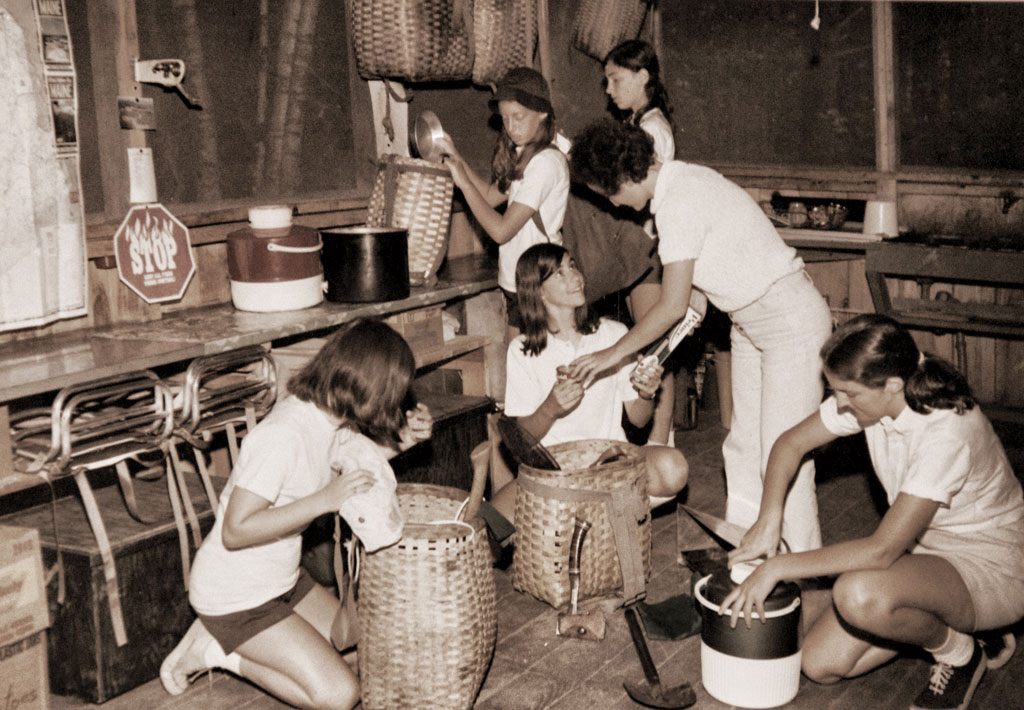 … We made complete fools of ourselves.
Each cabin had a cookout that first night, and a counselor asked me to go see another counselor and borrow the smoke shifter. That counselor said he didn't have it anymore and sent me to another counselor . . . and so on until it finally dawned on me that there was no such thing as a smoke shifter.
Bob MacLaughlin
Warren, Maine
Camp Agawam, 1958
We danced to "Freebird" at the end of every social.
Elyse Weiss
Deerfield, Illinois
Camp Modin, 1980–1984
One girl in my age group suggested we go outside and run around, and so all 28 of us, fully dressed, ran out of our bunks and danced in the rain. We sang, we fell, and we made complete fools out of ourselves.
Rachel Heimann
San Francisco, California
Camp Fernwood, 2004–2010
On Sundays we would skinny-dip with Ivory soap (because it floats) to get cleaned up for Sunday service.
Chad Skinner
Groton, Massachusetts
Camp Winona, 1973–1975, 1977-1978

… I texted my dad when I got homesick
Help I'm upset. 
Why? Can you call?
No. 
You've been through two of these episodes already this summer. You know everything will work out in the end. 
No. 
Or is there some specific new problem? 
No I just can't do it. Help. 
I love you and you need to be stronger. 
Dad. 
What do you want me to do?
I don't know. Help? 
You need to accept that you're going to feel some sadness but then you need to shrug that off and get on with your life. 
No help. 
You're crossing over from sweet homesickness into pathological behavior. 
I know. 
So cut it out. 
No. 
Do you really want to be THAT kid? 
No. 
So cut it out. 
Can't. 
Hello? 
Jello. Hello. 
Do you have something to say? 
I think im okay if not I'll text. 
OK. I love you. 
Love you too. Very happy now sorry for all the trouble bye love you. Won't be able to text soon love you so much. 
Love you too. Have fun. Be safe.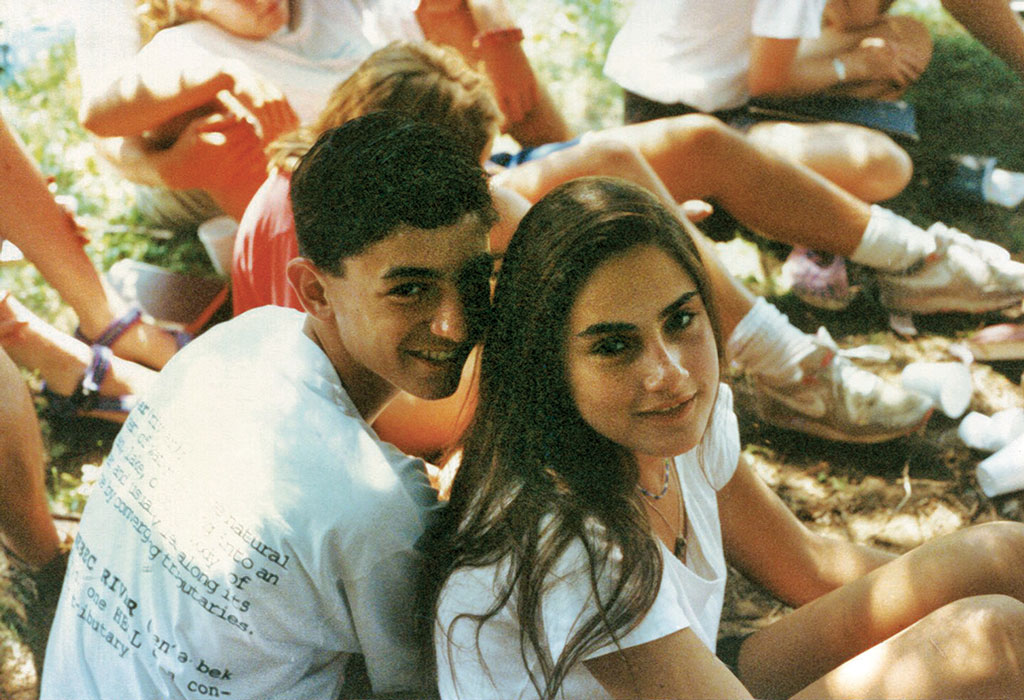 … I met the love of my life during color war.
A 14-year-old girl and a 15-year-old boy were appointed team captains for color war. We have now been married 57 years. We were team captains then and are still on the same team.
Peter Kolbrener
Westport, Connecticut
Camp Modin, 1948
I had my first kiss at a camp dance with a boys camp. I can't say it was my most meaningful relationship, but it was storybook-sweet in the moment — and innocent.
Cate Smit Elliott
New York, New York
Camp Arcadia, 1978–1981
I had one of those sappy, puppy dog crushes every summer from 2007 to 2009. Man, I thought I was a million bucks, really hot stuff. The big thing at camp was walking over to the girls' side at night and asking the girl you were courting if she wanted to go for a walk. I have a peanut allergy, so my calling card was, "Did you have any peanut butter today at lunch?" Once you heard that, you knew what was up.
Sam Gilboard
Andover, Massachusetts
Camp Modin, 2003–2009
I had a wonderful time with my camp boyfriend, Jeff Kirson. I still wonder where and how he is after all these years (over 50 years ago).
Suzanne Pulier
Los Angeles, California
Camp Modin, 1960
To read more summer camp memories submitted by readers, click here.
For a listing of summer camps in Maine courtesy of Mainecamps.org, click here.
Photos: courtesy of Camp Sebago Wohelo, Camp Pinecliffe, Camp Agawam, Camp Modin, Camp Fernwood, and Camp Little Wohelo.
Compilation of information and images coordinated with Maine Camp Experience, a community of more than 30 premier Maine sleepaway camps dedicated to providing children with the highest quality summer camp experiences in the country for generations.www.mainecampexperience.com, is the resource for all things camp and Maine – complete with a Maine Camp Guide who personally assists families with summer camp selection and planning visits to Maine. The site also features real Maine Camp memories self-posted by campers, parents, alumni, staff; and special offers.